Donald got them to take quadruple action – Democrats never thought he had a chance.
The D.C. swamp ready to trample President Trump's negotiations with Mexico. They were even prepared to knock down his proposed tariffs—if Mexico refused to help end the border problem.
Some have criticized the move, saying Mexico would never budge. Boy were they wrong.
While the deal is still being worked out, it looks like Mexico is buckling under Trump's heavy pressure.
Just in, we're hearing that Mexico is making 4 big moves to make Trump happy—well Democrats won't be happy about this.
From Zero Hedge:
Mexico showed yet another act of good faith on Thursday – freezing the bank accounts of 26 alleged human traffickers…
Impressive? They're just getting started…
Mexican officials have pledged to deploy 6,000 National Guard troops to the country's southern border with Guatemala…
Think that's fantastic? Then you'll love this:
The Mexican official and the U.S. official said the countries are negotiating a sweeping plan to overhaul asylum rules across the region, a move that would require Central Americans to seek refuge in the first foreign country they set foot upon after fleeing their homeland.
Ka-Boom! Mexico and the U.S. are close to an agreement to prevent the tariffs from happening.
To that effort, they have sent 6,000 troops to protect their Southern border from incoming people.
We are also crafting a new agreement between nations, where asylum seekers must stay in the first country they reach. Meaning, South American caravans who try to reach the U.S. via Mexico, will have to apply—and stay—in Mexico.
Oh, and number 4? This is icing on the cake:
Mexico has promised to build more migrant detention centers and checkpoints to catch caravans.
But it's not a done deal yet, so President Trump is keeping up the pressure: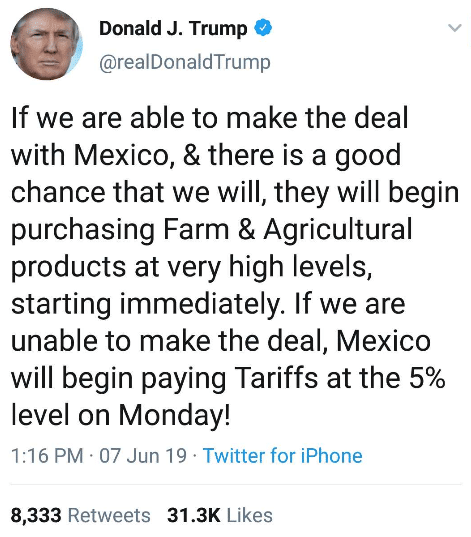 Good job, Mr. President – keep up the pressure!
This is all amazing news – if you want an end to the border problem. It looks like Mexico is doing something Democrats refuse: work to help protect our country.
How is it that will just a simple threat of tariffs, Mexico is willing to jump into action—but our own congressmen will do nothing to help?
Democrats have obstructed every measure Trump has taken to protect the border. They don't seem to care that hundreds of thousands have jumped our border, and millions more will come if we sit on our hands.
But Mexico is willing to help? Really makes you think about Democrats' priorities.
SHARE to thank President Trump for getting Mexico to do their part!