It's out now – and this federal judge in deep trouble.
American judges should be impartial – but after this guy's skeleton fell out, there's no way he should be ruling on Trump's wall.
U.S. District Court Judge Haywood Gilliam just ruled to partially block Trump's plans to secure the border.
While that's a problem, the real problem is the big pile of cash he donated to Obama. And we mean big.
Via Washington Examiner:
…he previously donated almost $30,000 to former President Obama, other Democrats, and a political action committee."
Are you kidding me?
Who let this guy become a judge? Oh, Obama.
Specifically, he donated $6,900 to Obama's debut presidential campaign, and a whopping $14,500 for his reelection bid.
It's clear that this guy is a Democrat and pays to support Democrats. It's also clear that he's letting his views taint his decisions, instead of following the law.
And he's not the only one!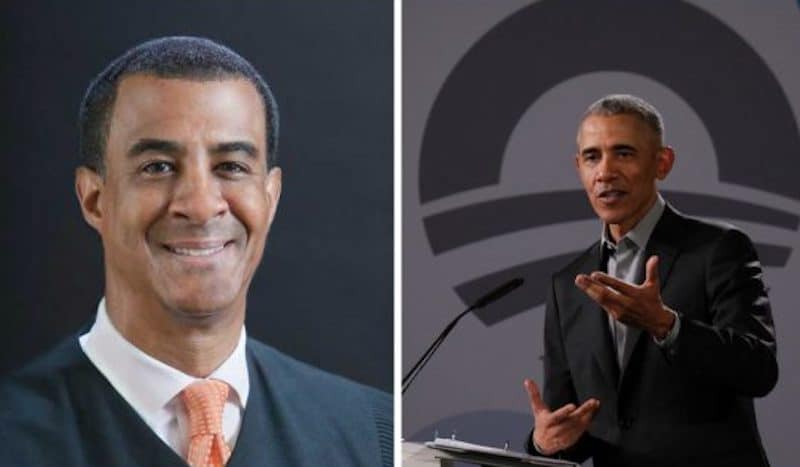 These guys definitely look like they're buddies.
In fact, he's one of three judges who ruled against Trump recently have donated to Democratic candidates in the past.
U.S. District Court Judges Edgardo Ramos and Amit Mehta (both appointed by Obama) are confirmed Democrats, and have ruled against the President in recent months.
So is Obama really out of office? Or does he have his buddies doing his work for him under Trump's nose?
Yeah, we know what's going on here – and this is exactly why Trump needs a second term.
To finish cleaning up the mess Obama created in our judicial system.
SHARE if you support Trump replacing liberal judges!